Also known as
Godzilla va Mechagodzilla II
, even though it is in no way a sequel to the original
Godzilla vs Mechagodilla
. That already had a sequel,
Terror of Mechagodzilla
.
The movie opens on  this image:
Recognise it? That's the robotic head from Mecha King Ghidorah. The military salvaged it and other parts from the ocean, and used to the future technology to build the ultimate weapon, to defeat Godzilla once for all.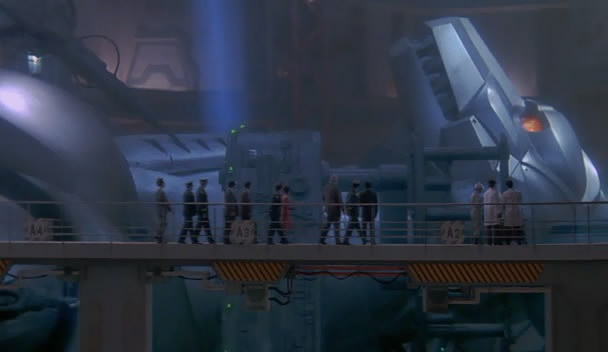 That's pretty cool explanation for how Mechagodzilla exists. The film is set in 1992, as was 1991's
Godzilla vs King Ghidorah
, so if people suddenly developed the technology to build it themselves it would be a bit silly. But they have robot technology from the future to study, so it makes sense. It also means 1992 was a very dangerous year, considering Mothra and Battra fought Godzilla that year too.
This isn't the first attempt at building a Godzilla-fighting machine though.
Garuda was built using the best of modern technology, no future stuff. But it didn't measure up. I guess because Godzilla got suped up in
Godzilla vs King Ghidorah
. It's been almost a decade since Super X was the height of anti-Godzilla tech, and that nearly worked. But the new Godzilla is bigger and stronger.
Apparently there's only one guy overseeing Garuda now, since everyone moved on to the Mechagodzilla project. That guy is Kazuma.
And he just got transferred to G-Force. A special anti-Godzilla squad who train specifically for Godzilla attacks. Kazuma's going to be a Mechagodzilla pilot, along with 3 others.
You can tell G-Force is serious because the captain guy yells at Kazuma for listing pteranadons as his hobby. G-Force is no place for dinosaur lovers, obviously. So Kazuma has to go through all kinds of training that he's mostly terrible at, but it doesn't make much difference.
Meanwhile, on some island, some Japanese archeologists have made an incredible discovery.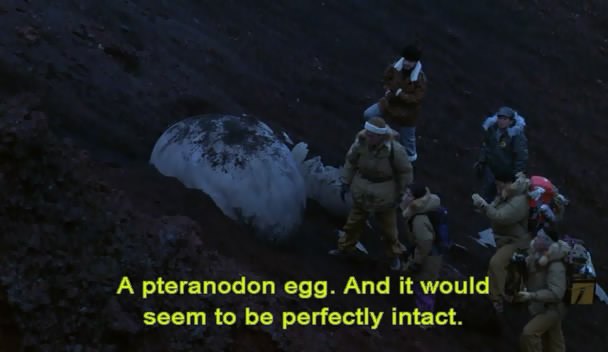 They know it's a pteranadon egg because it was found near some pteranadon skeletons. They were normal size though, unlike the egg which is absolutely huge. I get a feeling that Kazuma liking pteranadons wasn't a throwaway detail after all. You'll also notice there's a second egg, which has already hatched. And that leads to...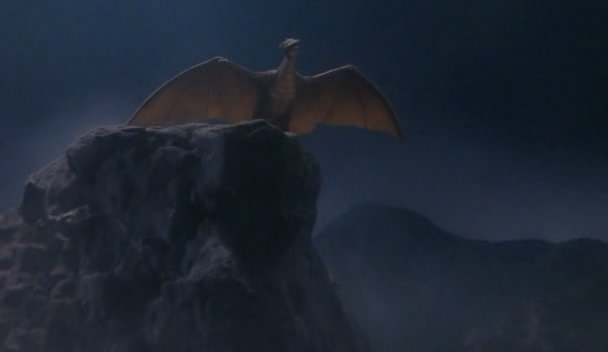 Rodan! I wasn't expecting that. I'm sure Rodan was a bird. But then, Rodan is another monster that had his own movie prior to his first appearance in the Godzilla series. I'm sure his origin was explained better in that, but I'm sure Rodan was just a magic giant bird or something. Not a radiated giant pteranadon. And there certainly wasn't two of them, which I'm assuming there will be once that other egg hatches.
Also, the actors very clearly say "Radon", rather than "Rodan". Turns out Radon is real Japanese name. But since I don't ever plan to start using "Gojira", then fuck it, I'll stick with Rodan.
As if the scientists weren't having a bad enough time with Rodan showing up, Godzilla turns up too.
Godzilla always makes good entrances in the Heisei movies. He hasn't even appeared on screen yet and he's already attacked Rodan. As the archeologists run off to their helicopter, Godzilla and Rodan have a pretty cool fight.
Rodan swoops in low and knocks Godzilla over
But Godzilla doesn't take shit like lying down. Well, this time he takes it lying down, and by take it I mean he strangles Rodan.
After Godzilla absolutely batters Rodan and blasts him into cliff, burying him under rocks, because Godzilla's a badass.
So I guess Rodan's dead already? Seems weird. But there is that egg. I guess another Rodan will hatch in time for the final battle with Mechagodzilla. They'll probably have to fight it with Garuda, while Mechagodzilla takes on Godzilla.
The scientists bring the egg to Kyoto. Kazuma, who heard about the egg on the news, somehow manages to just wander into the lab, go right up to the egg, and start taking pictures. Apparently a single female scientist is the only person on staff in the whole building.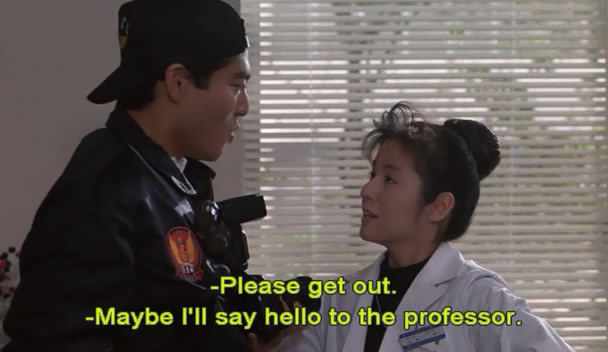 That's Azusa, the love interest. But not necessarily Kazuma's love interest...
You see, it's established that the egg will sometimes glow red. The theory is that this only happens when it's distressed, the flashing red means it's upset or scared or something. And it's noted that when Azusa is watching the egg this happens less. So the egg loves Azusa. She's going to have a pet Rodan when it hatches, lucky girl.
Anyway, although he gets thrown out, Kazuma manages to steal a sample of the moss that was growing on the egg, and while in the G-Force canteen, another G-Forcer notices it.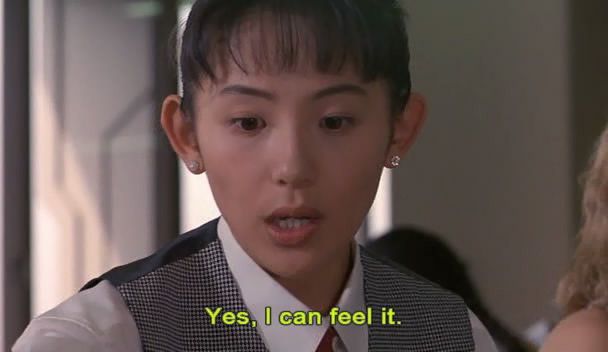 Hey, it's Miki! That's the third film in a row she's been in. You know, I get the feeling she was probably in
Godzilla Returns
and
Godzilla vs Biollante
as well, and I just never noticed it was the same character. I remember there was a psychic girl in Biollante, but I can't remember her name. They all look the same anyway (psychics I mean, obviously) so I probably just got confused.
Another thing that makes me think she was in Biollante is that the psychic school makes another appearance. At least I think that was in Biollante, it might have been the one before that. All these movies are starting to blur together.
Whatever, the psychic school. Miki senses some weird mojo from the moss, and takes it to the psychic school to have all the children examine it to see what they think. Because the children are better than her at psychic stuff? Or maybe they have a hive mind or something creepy like that.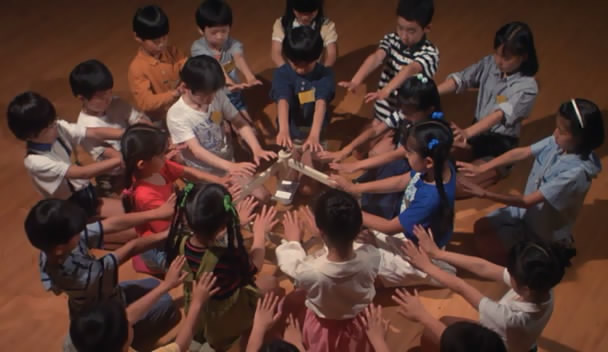 Yeah, I'm going with the hive mind thing. Freaks.
Somehow, the children's psychic readings are turned into a recording a song that represents the energy of the moss, and Miki takes the song back to the lab where the egg is. And for some reason, the song really freaks out the egg when they play it. I don't really get why, because the song is the psychic energy of the moss, and the egg was covered in the moss. But in song form the egg doesn't like it, and it flashes red and begins to hatch. Baby Rodan's on the way!
What the... That doesn't look like Rodan. It doesn't look like a pteranadon or a bird at all.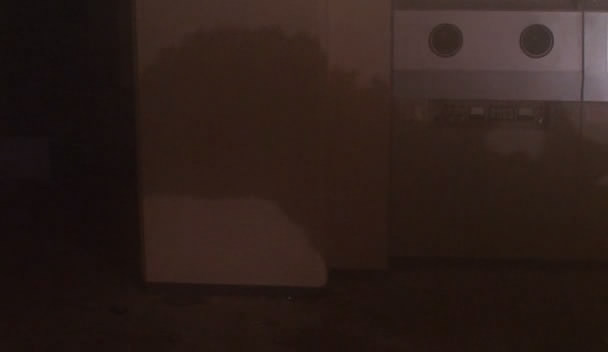 That shadow kind of looks like... Oh... Oh no. No, it can't be. Of all the things from the Showa era they could possibly bring back, this can't be one of them. Oh God no!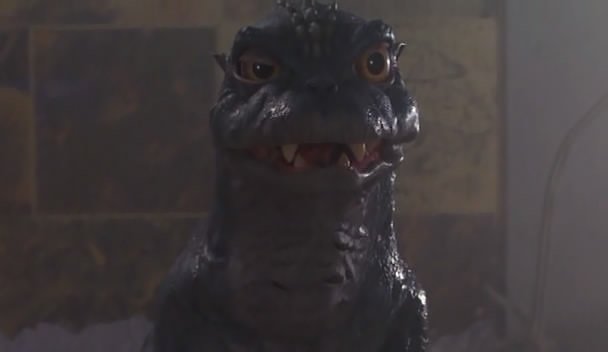 AAAAAAAAAHAHAHAHAAHAHAAHAHAHA.
What the fuck man?! That thing looks retarded.
Well, meet Baby. It's explained that Baby is a Godzillasaur. From the same family as Godzilla, but less aggressive, and also vegetarian. Those big sharp teeth must be for tearing chunks of flesh off trees then.
Before I die laughing at Baby, Miki senses Godzilla and the scene ends. It's time for Mechagodzilla to get some screen time. Godzilla is heading towards the city where Baby is, and Mechagodzilla is going to intercept.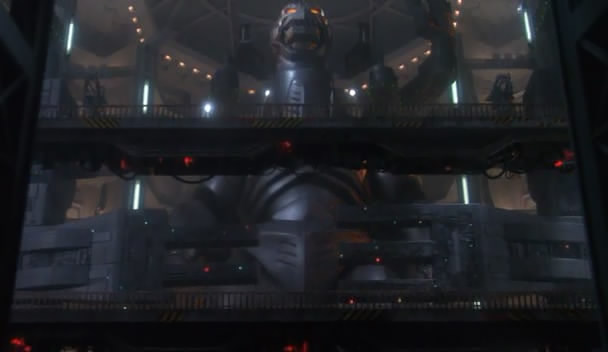 But Kazuma is at the lab with Miki, so they have to use a back up pilot this time. Mechagodzilla flies to meet Godzilla (of course Mechagodzilla can fly), and the showdown begins.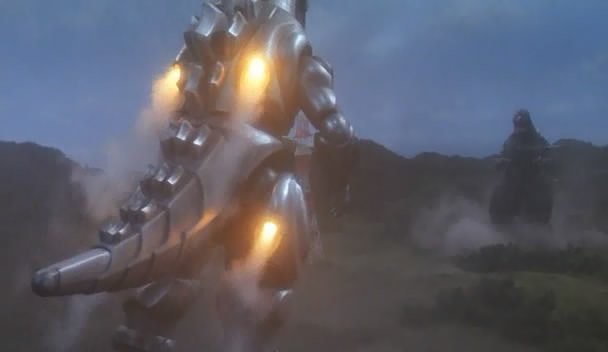 Now, this Mechagodzilla is way more advanced than the old one, with a ton of different attacks to kick Godzilla's ass in various ways. He still has the classic gay pride mouth laser.
Only now it's called the Megabuster. Which somehow makes it gayer. There's also the Laser Cannon, which seems a bit redundant because the mouth is already a laser, but I suppose you can never have too many lasers.
But Mechagodzilla's most kickass weapon is the Plasma Grenade. Which is a really
big
laser.
See what I mean? That big laser kicks ass. Sure knocked Godzilla on his. Next up, there's the Paralyser Missiles. They're actually missiles, which is a pretty big shocker (that's a pun, you'll get it in a minute).
Isn't saying "Fire" when you're the one firing a tad redundant? Especially when you already announced 1 second ago that you were firing. Well, the point of the Paralyser Missiles is to paralyse, in preparation for the killing blow. The Shock Anchor (get it?).
While that looks pretty brutal, these guys obviously never watched
Godzilla vs Mechagodzilla
1974. If they did they would know that electricity doesn't mean jack to Godzilla. He'll just absorb it and gain magnetic powers.
Or he'll reverse the electrical flow and burn out all your computer systems. Because, you know, Godzilla can do ANYTHING. Also, would it kill them to keep Godzilla's blood consistent? Is it green or red? Because in
Godzilla vs Biollante
it was green, but now it's red.
Since Mechagodzilla is a malfuntioning sitting duck, Godzilla just waltzes up and pushed it over like a Lagos Island tree.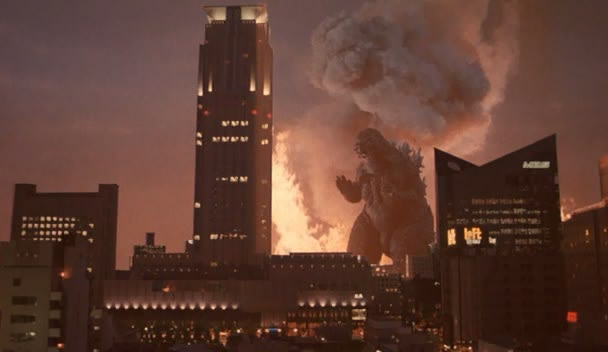 Aw yeah, look at that man. That's what these movies are about. That's fucking awesome. Godzilla wanders off to Kyoto, apparently in search of Baby. Baby is still at the lab with Azusa, and they think that maybe Baby has been calling to Godzilla. So they want to put it into a sealed room an-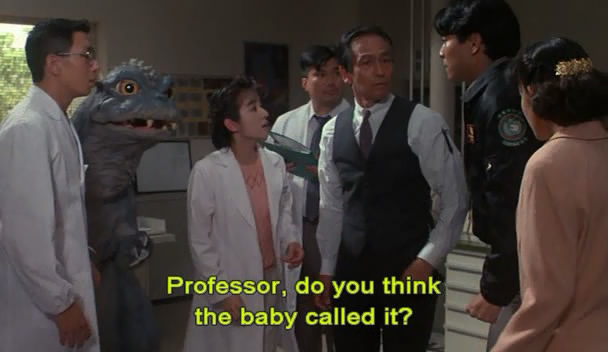 -nnndffffhaaahahahahahahahaaaa. Sorry, I can't take that thing seriously. Why did they have to make it look so dumb?
Holy fuck why did they have to make it look so evil?
Alright, the deal with this is, Baby's eyes glow red whenever it's upset or scared or distressed etc. Just like the egg glowed red. They got Baby into a secure room, but Godzilla stomping around frightens it. After a while Godzilla just wanders off though.
Since Kazuma was dicking around with Baby and Azusa and missed the Mechagodzilla fight, he get fired. But honestly it doesn't matter at all because he gets his job back like 15 minutes later.
Anyway, Azusa and all the scientists decide to move Baby to a special enclosure where they can study and raise him.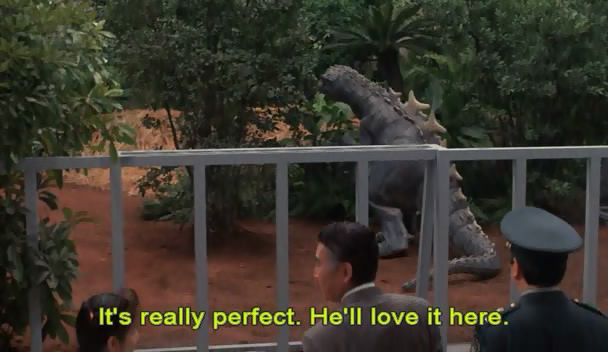 Oh yeah, lovely. He'll be so happy until he's 50 foot and crushes the whole building. I mean they explain that Baby is a herbivore, but that doesn't make the slightest difference since I don't think Godzilla has ever been seen eating anything, meat or otherwise. He feeds on nuclear energy as far as I remember. Now, they did say that Baby's particular species wasn't aggresive, but they never say it won't grow to full Godzilla size.  It was found right next to Rodan's egg and Rodan was absolutely massive. It doesn't matter how much of a hippy it is, when it's 50 foot it'll still be a menace. This is a disaster waiting to happen.
Studying Baby yields quick results though, and we learn that Godzillasaurs actually have two brains. One in their head, and another one right here.
Right here. I believe the scientific name for the location of the second brain is "up the arse". This leads the military to formulate a new plan of attack. Once Mechagodzilla is repaired, they'll use Baby to lure Godzilla to some uninhabited islands, and then attack from behind. They're going to take Miki with them, on board Mechagodzilla, so she can psychically locate the second brain's exact location.
Oh, by the way, the way Kazuma gets his job back is that he comes up with the idea of combining Garuda and Mechagodzilla. And I assume he's the only one who can do it because he's suddenly on the team again.
Continuing the theme of unprofessionalism, Azusa lets all the psychic kids come and visit Baby.
And she also lets them sing a song. Now, last time Baby heard a song he got all freaked out and prematurely hatched, so I would say letting some kids sing him the
exact same song
would be a bad idea. But hey, what do I know, I'm not a scientist. I'm sure Azusa has it all figured out.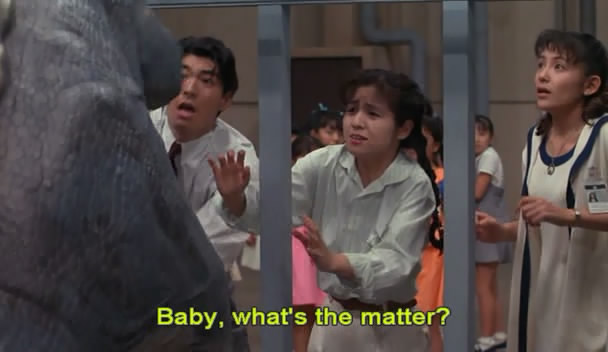 Oh wow would you look at that. Baby got all freaked out and started hitting the bars. Azusa sure knows what she's doing. She's definitely the right person to be looking after this thing, she understands it so well. Miki of all people has to explain what just happened. Whenever Baby hears the plant's song he gets really strong and angry. Why this happens is never explained, but there you go.
Not only does the song make Baby angry, but it also somehow revives and powers up Rodan.
I know right? Weird. And he's got a laser now, because you can never have enough lasers. I don't get what's so special about this damn plant song. Or why a plant even has a song.
Anyway, they pack Baby into some container so he can be flown to these islands in preparation for the attack.
Awwww, poor thing. He's scared. How could anyone do this to such a... Horrible abomination. Seriously, if they wanted to give Baby a visible sign to show fear or distress, you'd think it would be something to make him look more sympathetic for the audience. I mean I guess the audience is supposed to feel sorry for Baby, right? But the glowing red eyes really,
really
don't do that.
But it works for Azusa, and she gets in the container with Baby to keep him calm.
However, it would seem the glowing eyes mean a bit more than that. Rodan has arrived in Japan, and suddenly the scientists or military or whoever come up with the idea that Baby is actually calling out to Rodan. The glowing eyes are a kind of signal that Rodan can pick up on.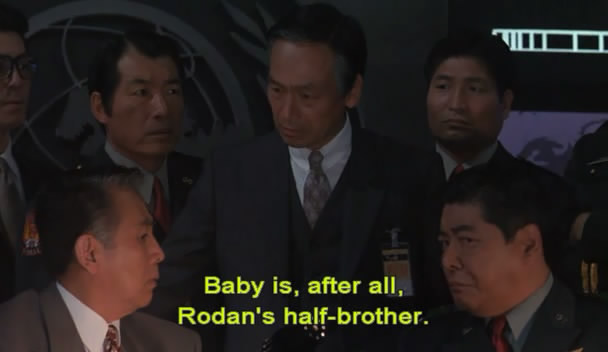 Whoa, wait a minute! What? No. No he's not. Baby's egg was next to Rodan's egg. That's it. How in the hell do they have some psychic connection just because of that?
Well they do. So... That's that. Rodan attacks the helicopter carrying Baby and Azusa and catches the container. After he lands he starts trying to break it open, but Mechagodzilla and Garuda are deployed and we enter the final big battle of the movie. I thought the plan was for Mechagodzilla and Garuda to be combined, but apparently they never got round to it.
So now I think Rodan is the bad guy, or he's just trying to protect Baby, or something. All I care about is the cool battle that's about to happen.
Yeah, that's the stuff. Rodan's got a laser now, so of course it's gonna be a laser battle. Garuda draws Rodan away from the container, but Rodan shoots it down. Then Mechagodzilla is all "Oh, you like lasers? WELL HOW DO YOU LIKE THIS? PLASMA GRENADE BITCH!"
Kaboom, blam, holy shit! Rodan gets blown into a skyscraper and it's fucking amazing. Rodan doesn't go down so easy though, not after being powered up by the plant song. Obviously the laser didn't work so well, so Rodan falls back on the classics. Pecking! Peck you motherpecker!
But Mechagodzilla is like "Perhaps I didn't make myself clear. PLASMA. GRENADE. BITCH."
And with that Rodan is down for good. Definitely. For sure this time.
Godzilla finally arrives, and tell me if this reminds you of anything.
This is 1993 remember, and these movies were being produced and released annually at this point. So popular trends and ideas from just the last few months could easily be put into the movies. This movie was released in December of 1993. During the first half of 1993, the Cell Games was happening in the Dragon Ball Z anime, and the big beam struggle climax happened around June. Now, I'm not saying the sudden introduction of beam struggles in Godzilla movies (I don't remember it ever happening before) has anything to do with that, but... That's exactly what I'm saying. This is clearly just a DBZ rip off, except it's cooler because it's Godzilla.
Mechagodzilla isn't fighting at full capacity because of the damage taken from Rodan, so Godzilla is free to beat the shit out of him with minimal effort.
Mechagodzilla is fucked at this point, but luckily Kazuma gets Garuda off the ground just in time (he's piloting Garuda by the way). He's able to distract Godzilla long enough for Mechagodzilla to get back up, and then...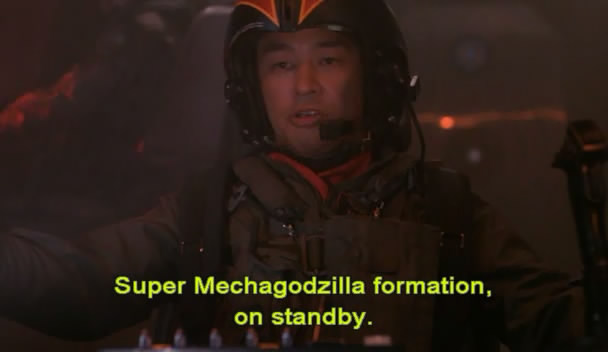 Yes! Yes! Mechagodzilla and Garuda are combining!
So not only has Mechagodzilla now become Super Mechagodzilla, but all the damage from before appears to have been magically repaired.
Shit just got real. Mechagodzilla goes all-out and blasts Godzilla with everything. Every kind of laser you could imagine. Then he breaks out the Plasma Grenade and knocks Godzilla flat. They shoot him with the Paralyser missiles and then laser him some more. Godzilla really takes a beating.
After all that, when Godzilla's completely knackered, they break out the Shock Anchor again. Miki helps them target Godzilla's second brain with her psychic powers, and they shoot the tethers right into it.
Then they start pouring in the electric, until eventually that second brain just goes pop.
And that's it man, Godzilla is out. Godzilla just got killed. He's actually dead. Which is good, I suppose. He has been the bad guy in every film since the continuity reboot in 1984. Godzilla never wins in these movies. Holy crap I just realised that. Godzilla never wins. That scientist trappen him in a volcano, Biollante beat him, King Ghidorah beat him, Mothra and Battra beat him, and now Mechagodzilla killed him.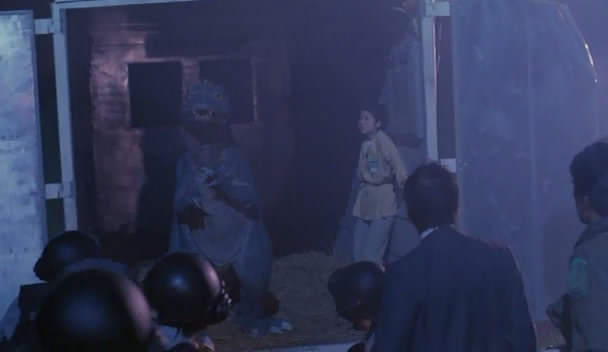 But what's this? Baby gets all stressed out at Godzilla's death and breaks open the container. He then calls out to Rodan, and Rodan revives
yet again
. Or maybe he just wasn't dead and Baby woke him up. Either way it's pretty much the same thing that happened before, except he's not powered up. He just uses his last bit of energy to fly over and land on Godzilla. And then...
Rodan sacrifices himself to revive Godzilla. Rodan's energy somehow heals Godzilla's second brain and brings him back to life. And this is the point where Godzilla becomes the good guy. There's no doubt about it. At this point he's basically Jesus-zilla.
So he's back and he is fucking pissed off.
And there we have it. Godzilla the Hero is back with a vengeance. If that makes sense. Rodan's energy also powered him up it seems, because his atomic breath is red now, which obviously means it's stronger. Mechagodzilla goes down in seconds.
But don't worry because all the pilots survive, and they all forgive Godzilla because he was just fighting to protect Baby or something. Godzilla and Baby then swim off together.
THE END.